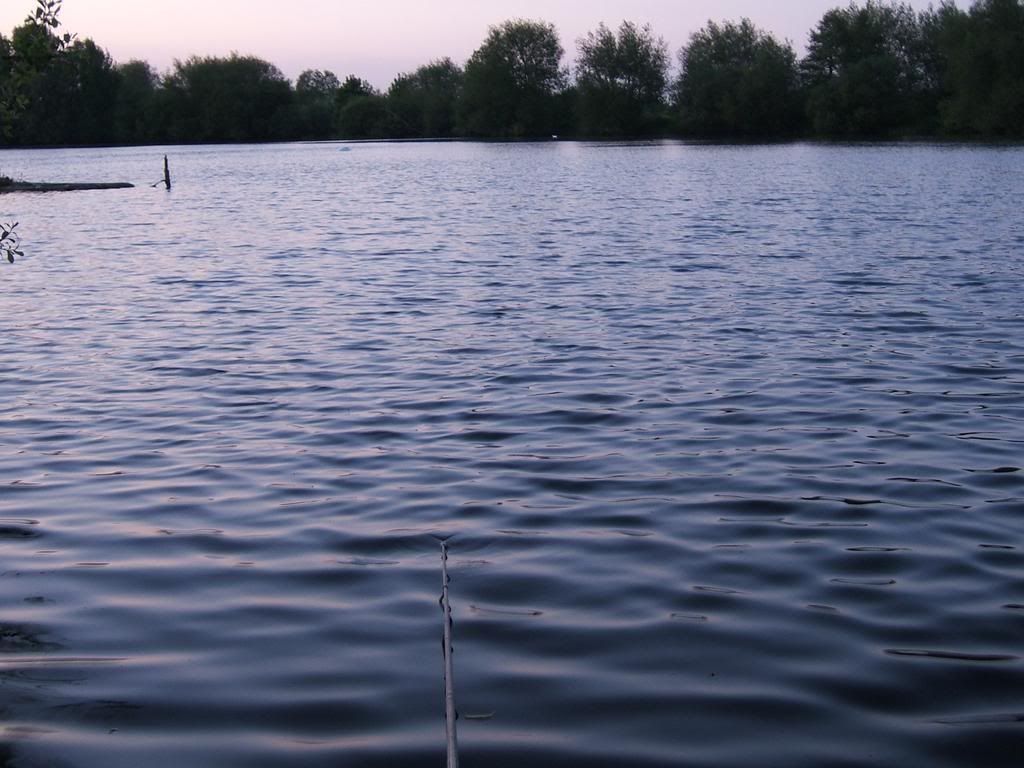 Wed 14th May 2008
Tench lake again today & this time I fished an evening session after work in an old favorite peg on the southerly bank. The peg was facing into a North easterly that has been blowing steadily for a number of days. Not that this stopped the fish from feeding as the water was as warm as a bath! ( I actually didn't bother to test the temp but suffice to say it was warm compared to the air temp, at least double figures )
I fished artificials again on both rods with corn on the RH rod and a cluster of rubber maggots on the Left one. The RH rod was in 6ft of water, flat & with no obvious features. It is however an area I have caught in several times before taking a number of fish back in 2006. I had baited the area with plenty of groundbait, fired in with my new catty. The LH rod was in water that shelved away to the left slightly deeper, down another foot or so next to a weed bed that was slowly waking up from its winter slumber and edging it way back to the surface no doubt. I baited this area with more groundbait balls, this time they were more tightly packed - as I had now refined my aim.
After 1/2 hour or so I had and short bust of a run on the LHR but nothing developed further, and on the Right there was only a couple of bleeps that were probably caused by the wind. Steve popped round to see me about 8pm. We chatted for a while, all the time the rods remaining still. Out in the lake slowly and surely fish began to show, even rolling and tail slapping as the light levels gradually faded. Many of them were showing over my baited area.
I soon had a blistering run on the LHR I quickly struck but unfortunately it didn't connect ! This is a problem I have been having alot which I hoped I might have resolved by changing my hook pattern. I recast and was still annoyed but also encouraged by the activity at least. I had another run on the RH rod but again failed to hit the take! Shortly after Steve noticed the tip pull round a bit on the RH rod minutes later I had another run and finally managed to connect to a fish! I played it carefully in and netted a nice Tench of about 3lb odd. At last I have broken my run of blanks which has lasted exactly two months.
I had yet another missed run on the corn rod again afterwards, so I will need to look at my terminal set up again and see what I can improve ? - it's so frustrating as I should really have landed 3 or 4 fish. All the runs except one were on the corn rod.