I decided to have a go for the Perch on the River
Mease
, on what may be the last river outing for this season. I began the session by trying out my little perch
imitation
jigs, but found the wind just too strong after attempting a few casts with them.
I set up a stick float and tried to settle the worm hook bait in the lee of a branch.
Unfortunately
the current was too strong and the float was being constantly pulled under.
I eventually moved downstream to a pool on a bend. I plumbed the depth and found it to be around 5ft deep in a hole under the branches of the tree on the left hand bank. I cast in my worm and got a bite within a few minutes, but was
disappointed
not to connect to anything. The second cast produced a strange
bite
that although pulled
the float
around the surface but never took it fully under. I eventually lifted the rod sharply and was surprised to feel quite a resistance! At first I assumed it was a twig or some weed on the bottom, but then it started to
swim
off strongly to the right of the pool. I stopped it from making the faster water on the opposite side and then saw a large boil
erupt
on the surface as it came up through the water layers towards the top. Maybe a big Perch I thought for a second, then all was revealed when a nice jack Pike suddenly surfaced a few feet in front of me.
I expected the line to be bitten through at any second, but it didn't. The first attempt to net the fish failed when the net got caught up on a stick poking out from the bank ! Next attempt was
successful
though, and I was quite pleased that I had a nice 5lb 3oz Pike in the net. I took the photo and weighed it for
prosperity. I then returned it upstream away from my swim.
I don't catch many Pike, and even though it is just a Jack it's still quite a big one for me and may even be the biggest I've ever landed ? so I have decided to set it as my current PB (well you need to start somewhere). I have caught quite a few Pike in the past again only small jacks but not for many years. The biggest pike I have ever seen was an estimated 12 - 14 pound which I hooked on a spinner on the River Blythe one day when I was young. I had got bored blanking all day on the waggler and maggot so quickly bit my line through. In my youthfull haste I tied on a spinner but with out a wire trace.
First cast out and I thought I had caught the bottom however when I pulled to free it, up rose this huge crocodile of a fish! Before I knew what to do it had sank back down and the line quickly parted as it must have just bitten through ! I remember that episode like it was only a little while ago, but it must have been just over 20 years now! One thing that doesn't change is that that river is full of huge pike, in fact I heard of a 30 coming out recently !! an awsome fish from a small river like that. I do plan to have a proper go for Pike in the future as they are still a fish I have a soft spot for, and when I decide to fish for them I'm sure I will do so with some passion.
After the pike there were no more bites from under the tree so I moved further downstream. Of the other pegs I tried there were no further
indications
in any of them, and it was difficult to find a nice and deep slack spot for the float to settle in. This river is
definitely
more suited to a ledger
approach in most pegs
, which I must bear in mind next time I visit.
Water temp was 8
degC
and air was 9.5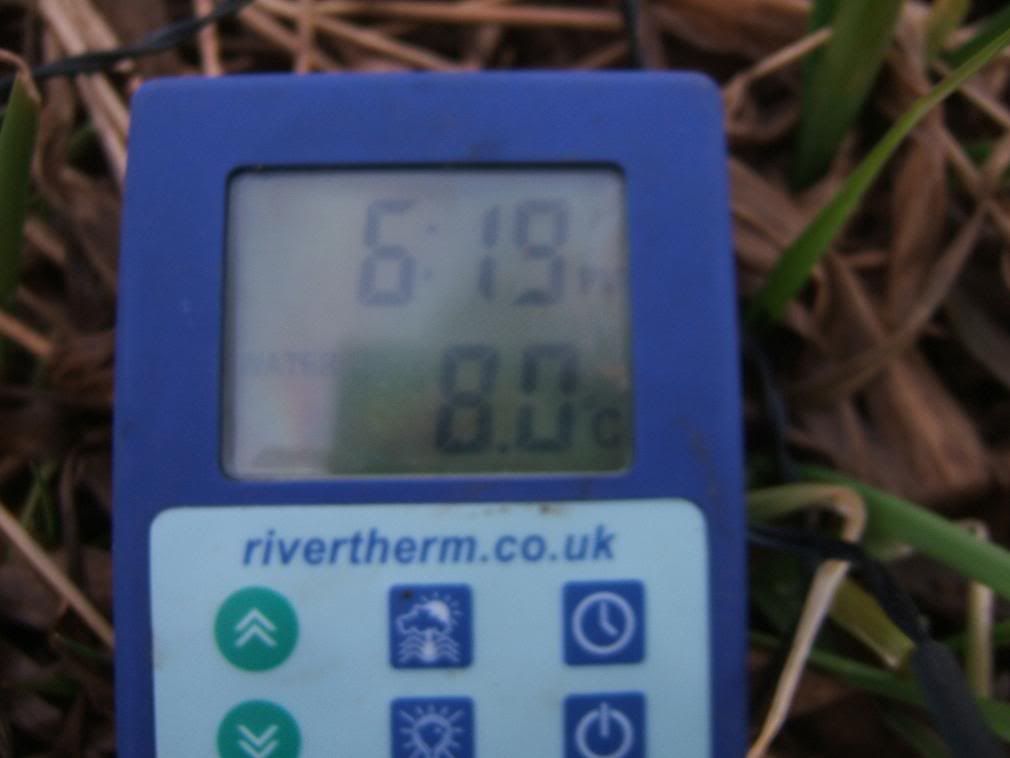 Water temp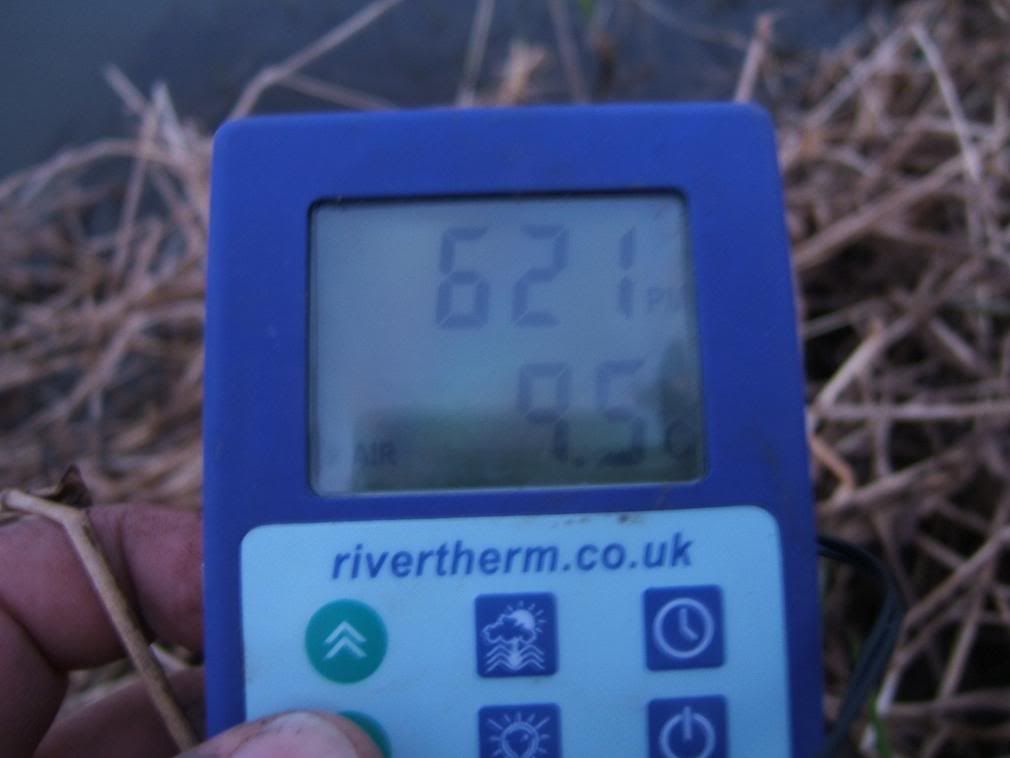 Air Temp